Tunisia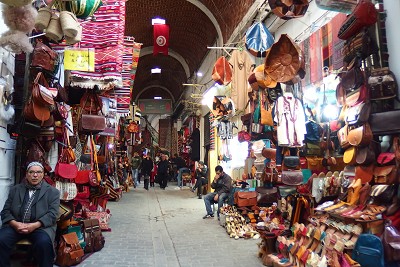 I couldn't get myself excited in spite of arriving in Tunis. That was due to a terrible cold that had been lingering on since last week. First of all, I enjoyed wandering around Old Medina.
BTW, what dishes should I have eaten in Tunis? I showed the server photos from my guidebook and asked her what she has on the menu. She maybe said she'd cook a typical national dish. I had baked lamb chops and couscous. Anyway, the restaurant Le Petit Tunis wasn't familiar to tourists. Nice atmosphere! *27/12/19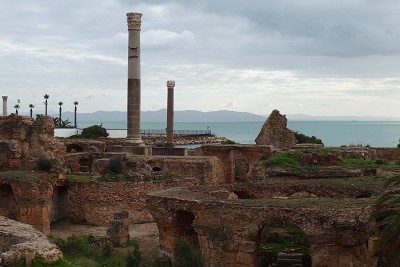 I woke up to the sound of Azan. I still suffered from a sore throat due to dry air in my room. I was thinking about whether to put on a synthetic jacket. Finally, I went to Carthage wearing this jacket. Standing by Carthaginian Ruins made me imagine the lives of people in the past. The ruins were rebuilt by Romans, though. Next, I went to Sidi Bou Said. The town had beautiful white and blue scenery with the emerald Mediterranean.
BTW, local food lablabi had a natural flavour. *28/12/19
Malta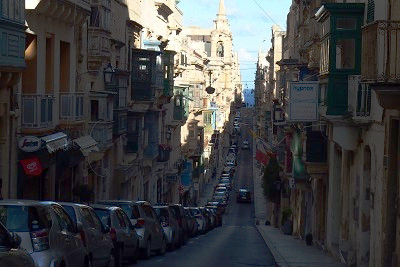 When I got a taxi to go to Tunis airport, my driver didn't understand the word Airport. He asked a policeman for help. I should have used Aéroport. He gestured about flying with a full smile. I again realized I travel to meet such a smile. I'll never forget his smile. Anyway, Malta was beautiful. No matter where you take it, anywhere in the city you would make a great picture.
BTW, Bragioli is a meat roll-up stuffed with meat. This dish is to die for! *29/12/19
Italy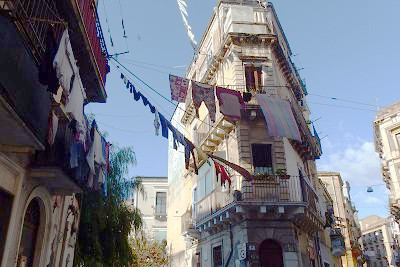 I left Malta by ferry at 6:30am. After arriving in Sicilia, I went to Catania by bus. Although I planned to see Mt. Etna from the rooftop of Chiesa della Badia di Sant'Agata, I just couldn't see it because it started to rain suddenly. I saw a rainbow instead in the direction of Etna. After that, I went to Messina and crossed over Strait of Messina to Villa San Giovanni by ferry.
BTW, I worried whether the Messina ferry was operating. I should not have swayed by unreliable info on the internet. *30/12/19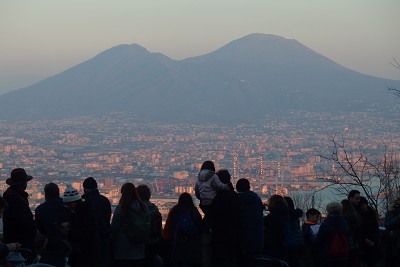 I went to Pompei via Salerno. I was amazed that the city was a well-established community even though it existed 2,000 years ago. Finally, I reached Napoli at 4pm, so I could see the nice sunset on the horizon of Mt. Vesuvius. Also I had tasty authentic margherita, and then I really enjoyed the countdown live.
BTW, New Year's Eve in Napoli was awful. After the sunset, fireworks were shot in the sky everywhere. I was scared of firecrackers suddenly went off in the street. *31/12/19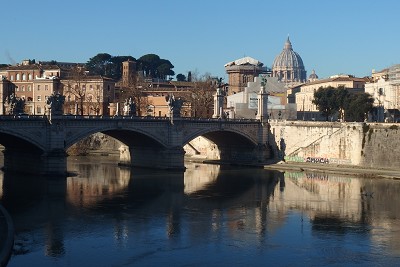 New Year should start off on a good note but I met misfortune immediately. The taxi driver to Napoli station ripped me off. On the other hand, I was glad to wander around quiet Roma. My mind drifted off to the memories of my last trip. I visited the same places such as Colosseo, the Vatican and Piazza di Spagna. I had been walking for 6 hours. Finally, I went to Bologna to stay there.
BTW, I had Spaghetti alla carbonara at Pasta sciutta in Piazza del Popolo. It was affordable and tasty. *01/01/20
I got up at 5am and went to San Marino via Rimini. The country was my 73rd country I've visited. As only a few people were seen there early morning, I was surrounded with silence. Castle towers in the sky were spectacular. Then, I returned to Bologna. The city brought back bitter memories of my last trip. I could sightsee this time. I noticed Basilica di San Petronio was really good.
BTW, Bologna is about bolognese. I had it twice in Bottega Portici. The second time, a server said she was glad I like it. *02/01/20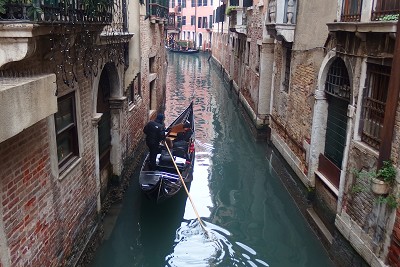 Unlike 20 years ago, every super express train stops at underground platforms. It was extremely artificial and I felt it was insipid. Anyway, I went to Venezia. I was psyched when the train was approaching Santa Lucia and ran on the sea. Then I wandered around the complex maze of alleys randomly. Also, I had tasty squid ink pasta for lunch at Bigoi. The restaurant was much better than a restaurant for tourists. Well, I had tiramisù to call it a day.
BTW, I became spellbound by the magic of Venezia. *03/01/20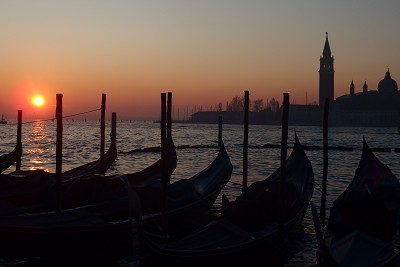 I didn't have enough time until my flight, so I hesitated about whether I would walk around Piazza San Marco again or not. Then, the sunrise crossed my mind. What east was facing the sea! Luck was on my side. Anyway, the sunrise was beyond description. I carefully enjoyed as the sun was gradually rising.
BTW, I didn't know why, but the beautiful view of Venezia was blurred with tears. Whatever every trip is wonderful because it makes us have wavering feelings. *04/01/20
شكرا – Chokran, Grazzi, Grazie