United States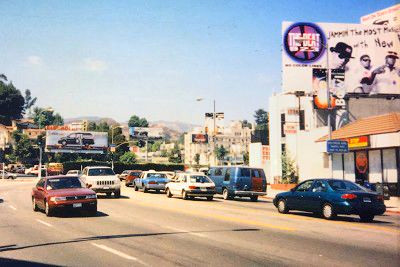 My hotel in LA was near the airport, so I needed to change buses twice to Hollywood. A young female passenger took me there. Anyway, I realised I didn't remember the bus stop at my hotel after sightseeing. I got a bus with a wild guess, the bus went into a savage slum. I got panicked but finally found a note with the address of the hotel. The driver warned me the area was dangerous. I thought I'd never return to my hotel again.
BTW, I dozed off on the bus to my hotel in the lurch. Idiot!*13/7/97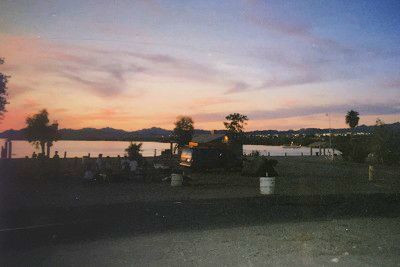 I joined the camping tour. The tourists need to sleep in their sleeping bags and cook meals together. Our team was three Germans, two Koreans, three Canadians and an American driver. Everyone was very friendly, but I struggled to speak English. Although I'm not usually shy, even come up with simple words. Anyway, it was very hot and dry. At last, I stayed in Palm Springs beside a lake.
BTW, I was happy to stay in magnificent nature. *14/7/97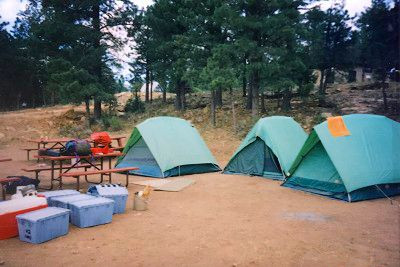 Once my car left the town, the desert scene spread out before me. What was good about the tour was the English conversation and the feeling of fellowship. I could share the joy. On the other hand, I just followed the tour schedule. That was why I visited Route 66. There was a famous sight spot, but I wasn't so impressed. As a group trip, no exciting hardships were faced. Anyway, I passed through the Colorado River and reached the Grand Canyon.
BTW, isolated cafes in a desert were nostalgic. *15/7/97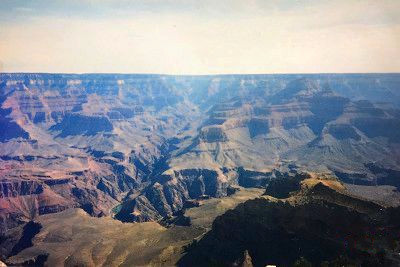 I was excited to see the Grand Canyon. How many wonderful and beautiful colours! Unfortunately, I missed joining a hiking tour, as I didn't catch the announcement from my driver. Only a Canadian man woke up early enough and joined it. Besides, I didn't join a helicopter tour, because the price was expensive. After we fully enjoyed nature, we headed to Las Vegas via the Hoover Dam.
BTW, I was surprised Las Vegas suddenly appeared from the desert. The city was unnatural, though. *16/7/97
I was sleepy as I enjoyed Vegas overnight. First, I tried bungee jumping with Korean friends. It was an invaluable experience, because I could sense the earth's gravity. Next, I tried a slot machine and I won big. It must've been beginner's luck. What happens in Vegas stays in Vegas, though. Anyway, we went to Death Valley. It was so hot that I felt like I was going to die. Finally, I reached Yosemite. I was in the greenery after a long time.
BTW, I was almost freezing to death at night in the tent.*17/7/97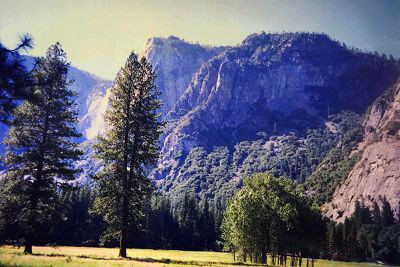 Yosemite was at a high altitude, although it slipped my mind. I should have worn more layers at night. Anyway, I tried out rafting in the Merced River with German and Korean ladies. It was so fun. I've never seen such great nature. Anyway, the time I spent with them for a week was precious to me. It'd have been better if I could speak English more. I wish I could see them again somewhere.
BTW, I was 20, so not allowed in the pub for the farewells.*18/7/97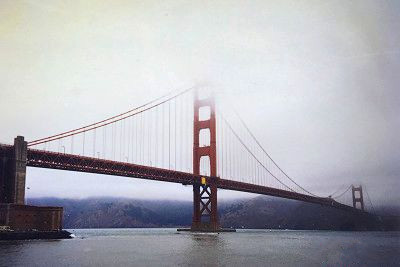 We arrived in SF at noon, and friends parted with me hurriedly in front of my hotel. Then I was alone. I needed to do it all by myself from that point on. Since I was in the car the whole time, I wasn't tired and I had much energy left. So I wandered around there such as the Golden Gate Bridge, Fisherman's Wharf and Cable Car. I couldn't use a bus yet, though.
BTW, I finally had dinner with Canadians, as they still stayed at the same hotel. Many many thanks. *19-20/7/97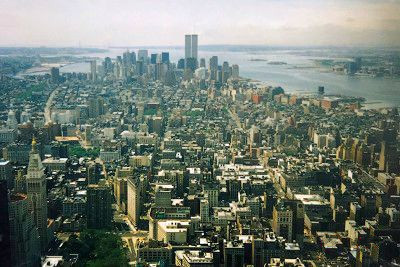 The ringing of the phone woke me. The receptionist said the taxi was waiting. Ah? Isn't it 6:30 right? He shouted 6:13. I got myself ready in a rush. Anyway, I arrived in NY as planned. New York City was great! I've seen every scenery I can see on TV many times. Overwhelmingly filled with joy and excitement. While listening to ♪New York State of Mind in my mind, I walked from Midtown to Liberty Island and back. I bought souvenirs on impulse at NY Univ.
BTW, you see the Twin Towers in the photo. *21-22/7/97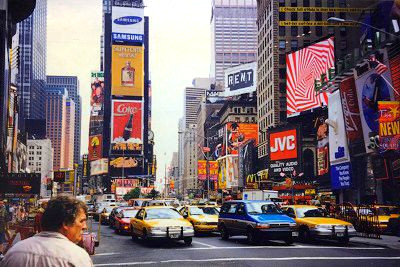 Although I planned to visit Boston by train, I continued to wander around NYC. I went to the Metropolitan Museum. What a luck! I found a magnificent Van Gogh's painting. It was Wheat Field with Cypresses. The contrast of colours between blue and orange was just great. I could feel the fresh breeze from wheat waves and clouds. My memory was the hot dog I ate outside the museum.
BTW, it was my first trip abroad alone, so everything was fresh and stimulating. Keep on trying. *23/7/97
Thanks