England
In the summer of 1998, I studied English for a month from Studio Cambridge at the Ridley Hall. Before coming here, I travelled to Canterbury, Rye, Seven Sisters and Lewes. When I was on the way to Worthing, my train was cancelled due to bombings in Brighton. At that time, the IRA War hadn't finished. So, just the thought of Belfast made me shudder. I never thought I would go there in 2018.
BTW, this trip by train was easier than the last one in the U.S.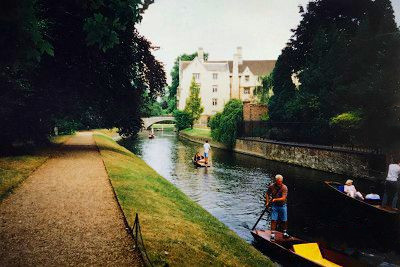 In Cambridge, my lesson was only in the morning, and so I wandered around this town to draw a map in my mind. Exactly I thought, I love seeing beautiful streams with charming bridges and many old schools. Also, I went to London frequently to go to museums and to see musicals.
BTW, the highlight was Paris from Cambridge by coach. It took some 8 hours each way. I was surprised the coach drove on to a train directly during the Channel Tunnel.
New Market is the place to go for any true horse racing fan. I took a day trip from Cambridge without any plans. Actually, the racecourse was off-season and I couldn't join a horse farm tour as didn't book. But I was glad just by seeing the beautiful lawn. There was also a statue of Hyperion. After studying in Cambridge, I travelled around the UK. I enjoyed in Edinburgh especially.
BTW, I shouldn't have changed money right before leaving Scotland. I had difficulty using Scottish notes in England.
Thanks