Norway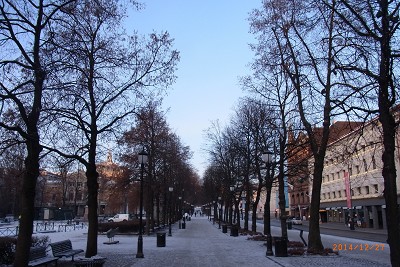 The fire alarm woke me up in the dead of night at a hotel in Oslo. I was thinking of whether to change into trousers or not. I should have run away immediately, but I worried about freezing cold. Hotel guests evacuated at -15°C and some were almost undressed. At last, it was a minor fire, so I went back to my room after 30 minutes. Anyway, I had a tasty meatball before I headed to Sweden by train.
BTW, the air was very crisp, so I felt refreshed. *27/12/14
Sweden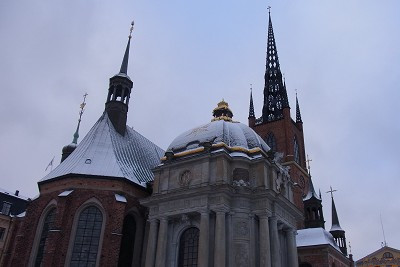 I had booked the Central hotel in Stockholm before the trip, but I forgot the map. It took 30 minutes to find the hotel, though I passed it frequently without noticing it. Anyway, I was highly satisfied the breakfast as there was a wide variety of choices. Then, I went around sites including Gamla Stan. It was winter scenery with snow, I got excited.
BTW, I'd like to live in such a peaceful city. It wasn't easy to describe the loveliness verbally, though. *28/12/14
Denmark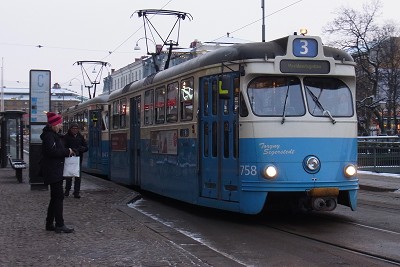 I stayed a night in Göteborg. I could see blue trams everywhere. I like trams very much, so I was happy to take a lot of photos. Next, I got a ferry to cross the Öresund Strait from Helsingborg. Anyway, a problem happened after I entered Denmark. I didn't have Danish Krone and I couldn't find any ATM. At last, my 3rd credit card was accepted by a ticket machine and I reached Copenhagen.
BTW, Danes always seem to pay with e-money. *29/12/14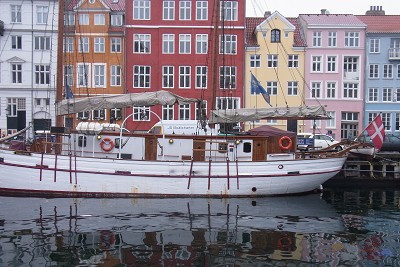 Copenhagen was more bustling than I thought, whereas Helsinki, Oslo and Stockholm were peaceful. I stayed for three days there without travelling. That was a real kickback for me. And, I enjoyed chilling out by looking for cute novelty items. Moreover, the last day was New Year Eve, so I could see fireworks at midnight. I'm usually not interested in the crowd, but I was on cloud nine while travelling abroad.
BTW, winter is the best for travel in Scand. *30-31/12/14
Germany
My train to Germany got directly into a ferry to cross the strait called the Femern Bælt. Of course, rails lay in a ferry and its carry railway vehicle and passengers, so they don't need to change trains. As this route will be taken off within a few years, it was a precious experience for me. After leaving the ferry, my train entered Germany. I got off in Lübeck for sightseeing. Finally, I reached Hamburg.
BTW, I'm psyched to get a night train every time. *1/1/15
France
I took a night train in Hamburg. The trembling of the train and the clickety‐clack sounds were comfortable for me to sleep. I can sleep well anywhere. I woke up at 4am and changed trains in Karlsruhe and Mannheim. Finally, I got to the desired destination in Paris. It didn't feel as if much time has passed, because last time I went to Paris was 2013. I even stayed in Montparnasse – the same place as before.
BTW, Paris is an irreplaceable, wonderful city. *2/1/15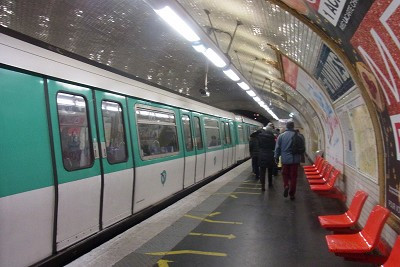 It sounds cliche, but I went to typical sites again. I had breakfast at La Rotonde. I had omelette for lunch at Le Rouquet. I had galette for dinner at Creperie du Manoir Breton. This restaurant attracts more locals than tourists. As you know, I love to take pictures. I also love Paris as it has a lot of instagramable spots there. I went to Passy to take a photo of La tour Eiffel and métro on the Le Pont de Bir-Hakeim. I also made a little side trip to Chartres.
BTW, I enjoyed common days in amazing Paris. *3-4/1/15
Takk, Tack, Tak, Danke, Merci