Indonesia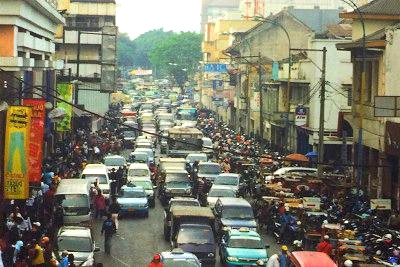 After arriving at Soekarno-Hatta Airport, my friend from my postgraduate years and his friend came to pick me up. They live in Bandung and his friend drove us to my hotel in Bandung. We had authentic Padang cuisine for dinner on the way. The eating style was interesting. Wait staff displayed many dishes on our table. I selected the foods and only took portions of what I wanted to eat on my plate. Finally, I only paid for what I had eaten.
BTW, Padang's meals were nice and super spicy. *1/9/07
As the elevation of Bandung is 768m, it was a bit cool for Indonesia. I went to Tangkuban Perahu, which is an active volcano. Plumes of smoke billowed everywhere around the crater. My friends accompanied me, so I could experience the local atmosphere much easier than usual.
BTW, I'd wanted to eat durian since I watched the film Durian Durian. It tasted lovely, but I overlooked the hotel's prohibitions. Don't eat durian in the room! *2-3/9/07
I got on a train to Yogyakarta early in the morning. I'm always thrilled to ride an Asian train. It ran along the rice terrace and the forest for 8 hours. After arriving there, I booked the classic hotel, Inna Garuda at the station. Just then, the staff offered me day tours, but I declined. He was persistent and followed me to the hotel. Just great.
BTW, I went to see Wayang Kulit, which is a traditional shadow play, at Pendopo Nde Luweh. It was fun! *4/9/07
I always want to travel alone, but I booked the day tour to the remains of Borobudur at the hotel. My friends showed me around Bandung, so I was not yet able to gear up for my usual solo travel mode. I went there before dawn. Although I can not remember the sunrise, the architecture was magnificent. Also, I went to Prambanan. The temples were restored after the quake in 2006.
BTW, I wanted to buy batik fabrics, but I gave up because I was not sure I would be able to identify the authentic ones. *5/9/07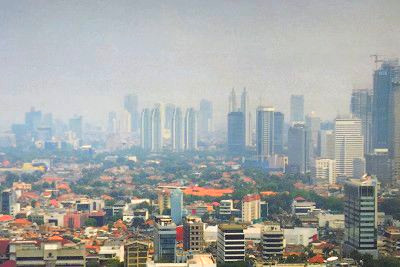 The night train arrived in Jakarta at 6am. After checking into the hotel, I asked the receptionist if I could have breakfast that day instead of the next one because I planned to leave at 5am the next day. Fortunately, I could have breakfast. Additionally, they allowed me to enter my room earlier than planned, so I could take a shower. Jakarta was busier than I expected, with a lot of traffic.
BTW, I had Padang meals again. And, I bought a pack of Indonesian ground coffee. You drink supernatant. *6/9/07
Malaysia
I needed to transit in Kuala Lumpur, so I stayed there for a night. Speaking of KL, there was a filming location of the movie Entrapment. I just went out to the Petronas Twin Towers. I heard through the grapevine that the tower was tilted ever so slightly due to the soft ground. No way!
BTW, I found an economical hotel in Chinatown, but I should not have stayed in that area. I wanted to feel Malaysian, but there was a distinctly Chinese atmosphere. *7/9/07
Makasih