Myanmar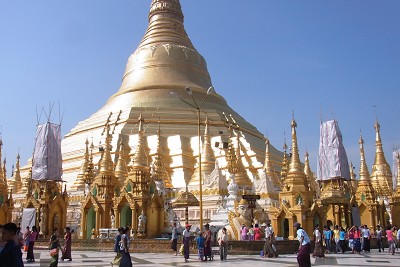 I had no choice but to get a taxi since there was no public transportation from Yangon Airport to the city centre. The moment I arrived at my hotel, I went to street stalls to have dinner. After I slept on it, I wandered around the city. Yangon river was wide and muddy, Shwedagon Pagoda was glittery. Still, the place felt good and I was dozing off.
BTW, I was surprised the buses I used to take in my town are still in operation here with the same colour.*27/12/15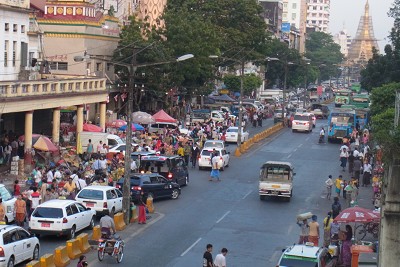 I went to Bago from Aung Mingalar Bus Sta. Arriving there, bike taxi drivers offered me a guide. Many temples were sparsely located, so I needed to use their service. Finally, I returned by minibus, but the bus arrived at Sawbwar Gyi Kone. Locals kindly directed me to the next bus.
BTW, I got a drink in Yangon and shared the table with locals. They said the bus fare I paid was too expensive with an apologetic look. I got that feeling. *28/12/15
Thailand
Although I always pass through the border by land, I was under the impression that a foreigner should leave the country by air. After arriving in Bangkok, I headed to Ayutthaya by minibus. I visited the closest temple Wat Ratchaburana from my hotel. An upper middle-aged lady from East Asia asked me to take photos in her first tongue. She was laughing and got excited about sunset.
BTW, I got tasty mango sticky rice at a stall. *29/12/15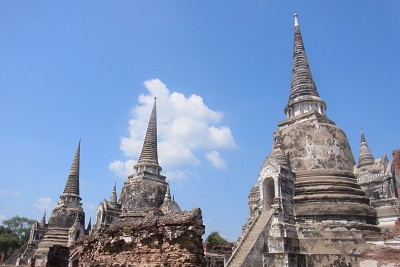 I rented a bicycle at the hotel and wandered around many good temples such as Wat Yai Chai Mongkon and Wat Pra Srisanpet. Stupa like unicorn horn was super. I was used to a bike trip, but the sunshine was strong for winter. There was no shade, though. After having khao man gai for lunch near Ayutthaya Station, I headed to Bangkok.
BTW, many foreigners waited for a train at a western cafe at the station. Why didn't they use a local stall? *30/12/15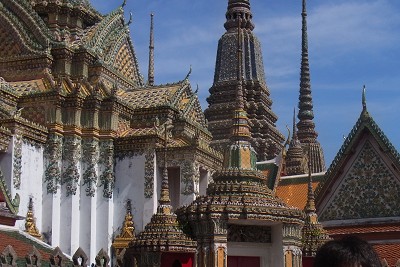 I stayed at the Prime Hotel Central Sta. near Hua Lamphong, so I walked westward towards Wat Pho. I passed through local markets on the way and reached Chao Phraya. Next, I visited Khaosan Road, but backpackers' unique ambience didn't still linger there. By the time I finished seeing Wat Saket and Wat Loha Prasart, the sun started to go down.
BTW, the 3rd floor was excellent to see Muay Thai. Locals gambled heavily on the match. Give it a try. *31/12/15
I enjoyed the NYE fireworks from my room. Then, I had visited most famous temples, so I wondered what to do. I was thinking of going to a floating market, but after all I quit. It was somewhat an obvious tourist spot. I changed the mode from a backpacker to a normal tourist. I went to a food court at Siam Paragon to eat good Tom yam kung.
BTW, I ended up feeling pad thai I ate at the airport was the best, although I was happy with all stall food. *1/1/16
ကျေးဇူး, ขอบคุณ ครับ