India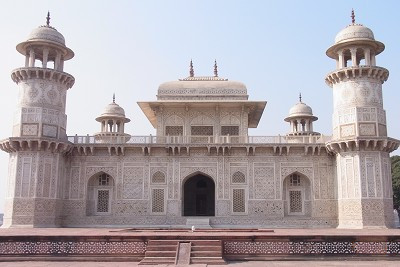 At New Delhi station, I was stopped by some locals, when I went through a gate. They said the train to Agra was cancelled, so I had to change my ticket at a travel agency. However, I doubted them and I passed through their blockage rather decisively. Just great! After arriving in Agra, many rickshaw drivers offered me a guide, but I travelled alone.
BTW, I'timād-ud-Daulah was the place I wanted to visit the most. It was meticulously authentic and beautiful. *28/12/13
I returned to Delhi late at night. After breakfast, I strolled around Old Delhi. The characteristic noises of crowded cities made me excited. Also, Indian food was very tasty. However it was disappointing that most locals weren't kind to dogs. I witnessed some car run dog's leg over, but the driver didn't care and he run away. Besides, most of the time, people who spoke to me were up to something.
BTW, I headed to Gorakhpur by night train. *29/12/13
A night train has three classes of sleeping car and non-bed car. As I slept in second class, all of the passengers except me were locals and everyone was calm, so I felt a different atmosphere than in Old Delhi. After sunrise, I got off in Gorakhpur and I went to Sunauri by old bus. My bum hurt from sitting on the hard seat and from rocking on the rough road.
BTW, I finally could pass through the border between India and Nepal on foot like in Midnight Express. *30/12/13
Nepal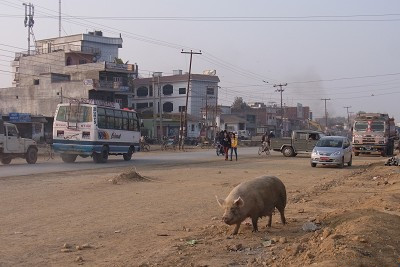 Bhairahawa was just like a border town. The best part of travelling was passing the border, I again realized I was a traveller. I could use both Indian and Nepalese Rupee there. Besides, I felt I had entered Nepal when I had local dishes like a mog mog. Anyway, I stormed down to Pokhara. It took 8 hours by bus, though. There were full of tourists in Pokhara and we enjoyed the fireworks festival on New Year's Eve.
BTW, I was happy Nepalese were kind to dogs. *31/12/13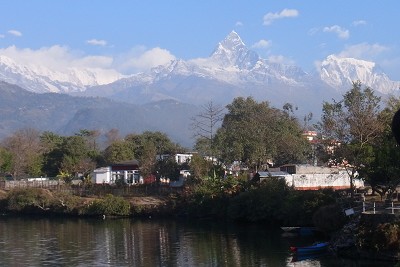 Fortunately, I could see sunrise during New Year's day from a roof terrace. Himalayas mountains dyed rose, it was so beautiful. Anyway, Pokhara is famous as a gateway of Himalayas. So I climbed a small mountain to admire the good scenery beyond the Phewa lake. At the lake, I could go across to the other side by a paid rowboat.
BTW, although a woman rower rowed my boat, she asked me shall we row together? So I did, haha. *1/1/14
It took some 8 hours again to go to Kathmandu by bus. The bus went up on a winding road at the last part of the route, so I saw Kathmandu sits at 1,400m above sea level. Lower altitude area was, interestingly enough, covered by forest, and on the other hand, Kathmandu was a crowded city and was filled with vehicle emissions.
BTW, the city was busier than I thought. Happily, no stray dogs were there. Dog and human got along well. *2/1/14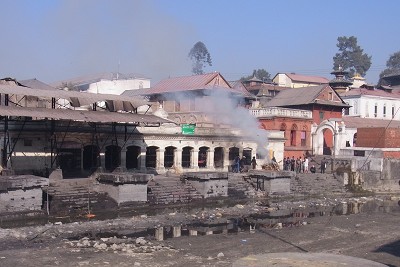 As I didn't know if my trip would be right on schedule, I planned a spare day. In the end, the trip went as planned, so I spent a relaxing day. Then I went to Pashupatinath. Locals usually hold a funeral ceremony there. Actually, I was watching the curl of smoke the whole time.
BTW, when I was getting used to everything in Nepal, on the other hand, I had started missing noisy India. I truly realized crossing the border was wonderful. *3-4/1/14
Thank you